Men's Featured collection
---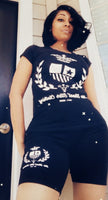 WOMEN'S LEGEND SERIES V-NECK SHORT SETS
A comfortable two piece set that's high in demand, simple, and stylish.
LEGENDS V-NECK BIKER SETS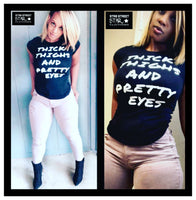 THICK THIGHS AND PRETTY EYES
Our most popular ladies T-shirt! This shirt is overall eye catching on first sight.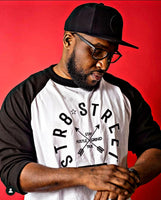 Men's Baseball Raglan Shirt
Check out our new Raglan Baseball T-shirts for men.
100% cotton. This shirt is intended for baseball wear, but with Str8 Street Star's trademark logos allows this shirt to be worn for fashion instead.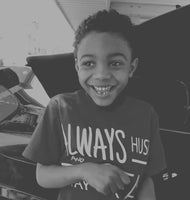 CHILDREN'S COLLECTION
New children's T-shirts for boys and girls now available. Let your kids be just as stylish as you.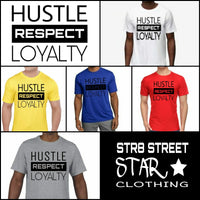 HUSTLE, RESPECT, & LOYALTY
Latest Collection from Str8 Street Star Clothing. Hustle, Respect, and Loyalty. Three key essential words for a person to live by.
Hustle, Respect, & Loyalty Collection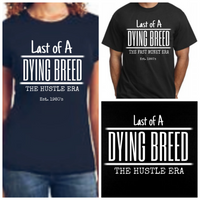 LAST OF A DYING BREED COLLECTION
Born in the 70's, 80's, or 90's and feel your era is the best era? Are you feeling that your era is the last of the Real? Represent your decade or just the hustle of the era.
Last of A Dying Breed Collection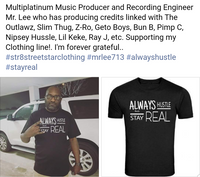 CELEBRITY SUPPORT
Mr. Lee (@mrlee713)
Multiplatinum Music Producer/Recording Engineer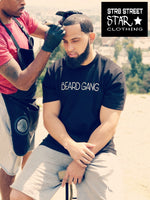 CELEBRITY SUPPORT
Prince Philly (@papiphilly)
Music Artist/Song Writer
Testimonials
I love, love, love, Str8 Street Star Clothing! The women shirts are pretty cool! The shirt fit me perfectly. I bought my husband a shirt as well. He wears it out at least once a week! I will be buying more soon...

Amber Lewis
I've bought four shirts already and each time I wear one, someone always stop me and ask where I got my shirt from. Keep up the good work homie!

LeRoy Humphries
I like these shirts because they're simple. They make a statement without me having to say anything. The fit is just right too. I will be ordering more shirts from you.

Barry Williams
CONTACT US
FOR ANY QUESTIONS OR CONCERNS
str8business@
str8streetstarclothing.com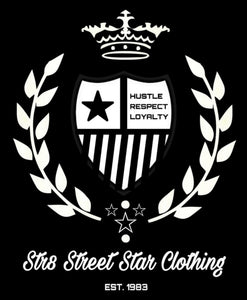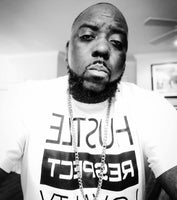 Dedicated to Tyrus "TD" Dorsey
Thank you for always supporting the brand from the very beginning and pushing me to keep creating. We love you forever brother! Rest in Heaven King.
-Tyson Dorsey
(CEO & Creator of Str8 Street Star Clothing)